| | |
| --- | --- |
| Order number: | K1083 |
| EAN: | 6908199462675 |
Mini Alarm Guardian Angel - self protection Alarm for Kids, ladies, children and men!...
more
Mini Alarm Guardian Angel
- self protection Alarm for Kids, ladies, children and men!
Dieses kleine sehr schöne Handalarmgerät in Form eines Flügels passt an jeden Schlüsselanhänger, Handy, Rucksack, Handtasche usw. und ist damit für den Notfall sofort parat.
Im Notfall oder Hilfesituation einfach den Stift mit kleinem Flügel ziehen und der Alarm verschreckt mit lauten ca. 90 Dezibel den Angreifer und Aggressor.
Wirkt abschreckend und warnend bei Bedrohung, Angriff und Überfall. Es wird Aufmerksamkeit bei Passanten erzeugt und kann dadurch potentielle Angreifer abschrecken.
Mehr Sicherheit für Ihre Kinder, Kids, Frauen und Männer!
Farbe: türkis
Klein und handlich
Betrieb erfolgt mit 3 Knopfzellen.
Hinweis zur Entsorgung von Altbatterien:
Der nachfolgende Hinweis richtet sich an diejenigen, die Batterien oder Produkte mit eingebauten Batterien nutzen und in der an sie gelieferten Form nicht mehr weiterveräußern (Endverbraucher):
1. Unentgeltliche Rücknahme von Altbatterien
Batterien dürfen nicht über den Hausmüll entsorgt werden. Sie sind zur Rückgabe von Altbatterien gesetzlich verpflichtet, damit eine fachgerechte Entsorgung gewährleistet werden kann. Sie können Altbatterien an einer kommunalen Sammelstelle oder im Handel vor Ort abgeben. Auch wir sind als Vertreiber von Batterien zur Rücknahme von Altbatterien verpflichtet, wobei sich unsere Rücknahmeverpflichtung auf Altbatterien der Art beschränkt, die wir als Neubatterien in unserem Sortiment führen oder geführt haben. Altbatterien vorgenannter Art können Sie daher entweder ausreichend frankiert an uns zurücksenden oder unter der im Impressum genannten Adresse unentgeltlich abgeben.
2. Bedeutung der Batteriesymbole

Batterien sind mit dem Symbol einer durchgekreuzten Mülltonne (s. u.) gekennzeichnet. Dieses Symbol weist darauf hin, dass Batterien nicht in den Hausmüll gegeben werden dürfen. Bei Batterien, die mehr als 0,0005 Masseprozent Quecksilber, mehr als 0,002 Masseprozent Cadmium oder mehr als 0,004 Masseprozent Blei enthalten, befindet sich unter dem Mülltonnen-Symbol die chemische Bezeichnung des jeweils eingesetzten Schadstoffes – dabei steht "Cd" für Cadmium, "Pb" steht für Blei, und "Hg" für Quecksilber.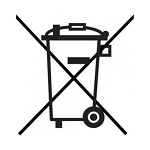 + + + + + + + + + + + + + + + + + + + +
Abbildung kann ähnlich sein. Änderungen und Irrtümer vorbehalten.
Related links to "Personal Mini Alarm zum Selbstschutz Schutzengel Schlüsselanhänger, türkis"
Read, write and discuss reviews...
more
Customer evaluation for "Personal Mini Alarm zum Selbstschutz Schutzengel Schlüsselanhänger, türkis"
Write an evaluation
Evaluations will be activated after verification.